New Testament in Cherokee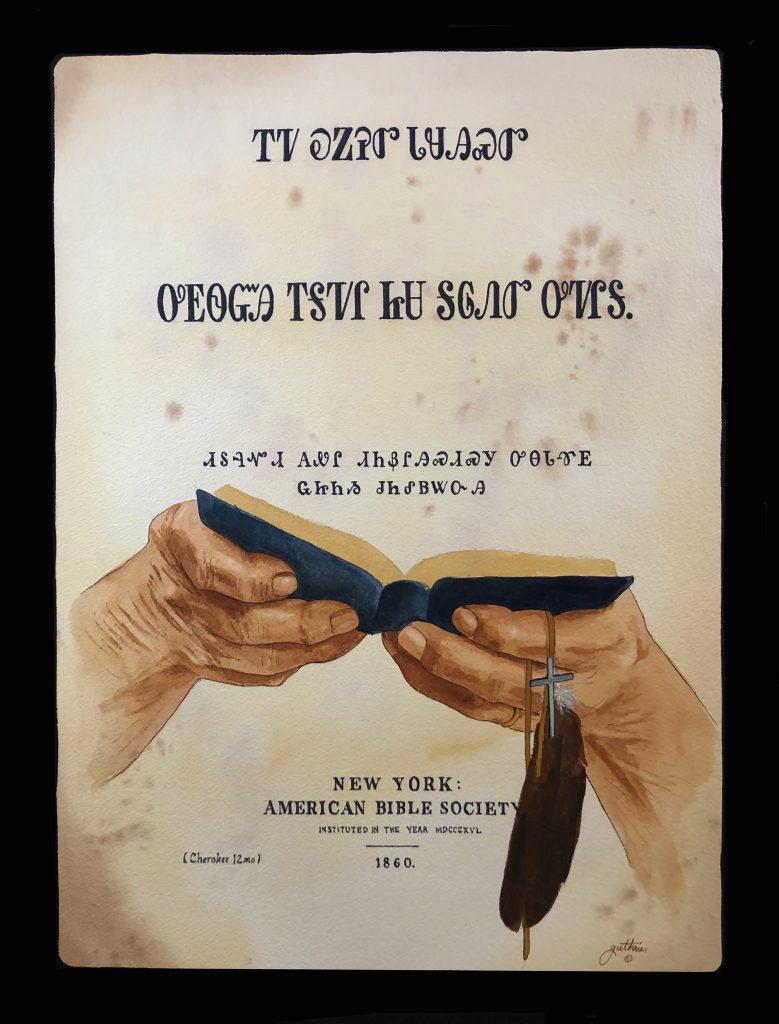 In 1824 the first portion of the Bible was translated into the Cherokee language: John 3, translated by a native Cherokee, ᎠᏥ (At-see, also known as John Arch). It was circulated in manuscript, and received with wonderful avidity, being copied hundreds of times. He completed the Gospel of John by 1824. The complete New Testament was translated in September 1825 by David Brown, also a native Cherokee; this was also circulated in manuscript form, as a type for the Cherokee syllabary had not yet been created. Both Archer and Brown translated the full New Testament into Cherokee.
The first actual printing of a Bible portion in Cherokee appeared in the Missionary Herald of December, 1827, and consisted of the first verse of Genesis, translated by Samuel Worcester. In 1828, David Brown, together with a man named George Lowrey, translated Matthew. This was printed in the Cherokee Phoenix from April 3, 1828 till July 29, 1829. It is uncertain whether this translation was ever published in book form or not.
Samuel Worcester, and Elias Boudinot, editor of the Cherokee Phoenix, published a revised translation of Matthew in 1829. This was published by the Cherokee National Press, New Echota. In the second edition, published in 1832, there is a statement that this translation had been "compared with the translation of George Lowrey and David Brown." A third edition was printed by the Park Hill Mission Press in 1840.
Worcester and Boudinot continued with translation, publishing Acts in 1833 and John in 1838. Worcester, together with Stephen Foreman, published John 1–3 in 1840, 1 and 2 Timothy in 1844, James in 1847, 1 and 2 Peter in 1848, Luke in 1850, Exodus in 1853, Genesis in 1856, Mark in 1857, and Romans through Ephesians in 1858. With the assistance of Charles C. Torrey, they published Philippians through 2 Thessalonians, Titus through Hebrews and Jude through Revelation in 1859. Besides the first three books translated together with Boudinot, Matthew (1829), Acts (1833), and John (1838), which were published in New Echota, Georgia, all the rest of Worcester's texts were published by the Park Hill Mission Press. In the meantime, Evan and John B. Jones had published Mark 1 and 2 Thessalonians, Titus, Jude, and Philemon in 1847, and Galatians through Colossians, 1 and 2 Peter in 1848 and Romans, 1 and 2 Corinthians, Hebrews and Revelation in 1849. Their work was published by the Cherokee Baptist Mission. The full New Testament was published by the American Bible Society in 1860.

Order Fine Art Prints