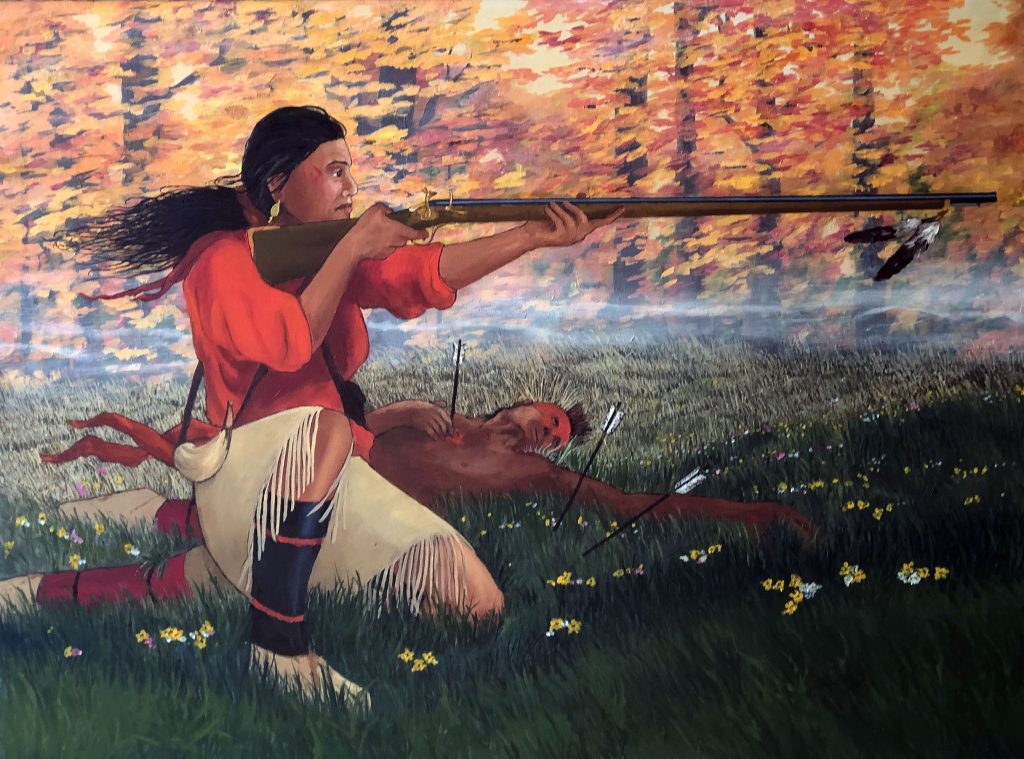 Order Information
Watch the following video to see the painting come to life.
Nanyehi at Taliwa
She was a Full blood of the WolfClan, born in Chota, the City of Refuge and Capitol of the CherokeeNation. Her Great grandfather was Moytoy of Tellico Supreme Chief 1730 –1760. Moytoy's second daughter, born about 1663 and her husband, The "Raven" of Chotawere Nancy's grandparents. Nancy holds a position of great significance in Cherokee history.
In 1738, Tame Do (the sister of Attakullakulla) and her husband, thought to be a Delaware Indian brave or Chief ( who died early in her life) gave birth to a daughter named Nancy, who in time became the last true Ghi Ga U or Beloved Woman of the Cherokees, and in who, in her views regarding Cherokee and white relationships, was an ally of Little Carpenter (Attakullakulla).
In the early 1750's, she married the noted war leader, Kingfisher of the Deer Clan, and was at his side when in 1755 he was killed by Creek warriors at the battle of Taliwa. She immediately picked up his weapons and rallied the Cherokee warriors to overwhelming victory. Back at Chota, she was chosen to fill the vacant position of a Beloved Woman. It was believed that the Supreme Beings often spoke to the people through the beloved women, and they were given absolute power in the question of what to do with prisoners taken in war, a power exclusive to Ghi Ga U. Nancy did not hesitate to use the power. She was also head of the influential woman's council that consisted of a representative from each clan, and she sat as a voting member of the council of chiefs.